About Us
Club Profile
Welcome to Papatoetoe Contract Bridge Club for 2017. We aim to provide a great Bridge experience for members and visitors and friendly, helpful instruction to newcomers to this exciting card game.
Our clubrooms are located in the Kolmar complex at Hunters Corner, Papatoetoe. The site is wheelchair friendly.
Rooms are available for hire. Contact our host club, Kolmar. There is a café and bar within the complex where our members can access and receive discounts on meals and drinks.
Sessions of Play for 2018
| Session | Start | For partners contact |
| --- | --- | --- |
| Monday evening | 7:15 pm | John Treherne: 275 4320 |
| Tuesday evening | 7:15 pm | Marilyn Stark: 579 7157 |
| Thursday morning | 10:00 am | Margaret Harris: 278-8547 |
***7th May 2018 Lessons will start
See Learning page for details or Display Flyer
***All Dealt Boards are provided by X-Club so Scores can be viewed at Club Level or Compared with other NZ Clubs***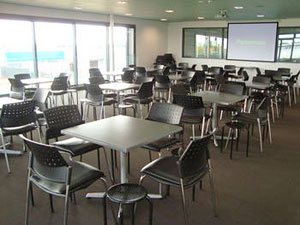 Where to find us
The Club is situated in the Kolmar (Papatoetoe Sports Centre), Sutton Crescent, Hunters Corner, behind the tennis courts. See map
There is disability access via the rear entrance (users must display a mobility card to park next to the building) and an alternative carpark on Great South Road, School Corner.
***Papatoetoe Contract Bridge Club is now a Charity***
At the end of January 2013 we were successful in changing our status from a Incorporated Society to a Charitable Trust
Contacts
| | |
| --- | --- |
| Telephone | (09) 277 6710 |
| Postal address | PO Box 23 472, Hunters Corner, Papatoetoe, Auckland 2155 |
| Physical Address | Kolmar (Papatoetoe Sports Centre), Papatoetoe : See map |
| Email address | pcbc@xtra.co.nz |
Officers of the Club
| | | |
| --- | --- | --- |
| President: | Lance Bowden | 09 636 4410 |
| Vice President: | Ian McGarvey | 027 270 6892 |
| Treasurer: | Linda Thorne | 09 634 7172 |
| Secretary: | Lance Bowden & Linda Thorne | 09 634 7172 |
| Tournament Manager: | Anne Peacock | 09 278 8681 |
| Club Captain: | Angela Signal | 09 279 7167 |
| Office Manager: | Neil Beckett | 09 5354933 |
Committee:
Brian Spendelow, Paul Scott and Garth Pussell
2015 Trophy Winners
| | | |
| --- | --- | --- |
| CLUB MASTER CUP | Angela Signal | Combined Mon/Thu points ranked below Local master |
| COWL TROPHY | Colin & Marcy Henderson | Most improved beginners |
| EVE BINGHAM TROPHY | Maureen Sheldong | Most improved Player |
| GRAND SLAM CUP | Val Tetley & Phil Lynchs | 2 Grand Slams Each |
| SLAM CUP | David McRae | 22 Slams bid for 2015 |
| HEATHER STRACHAN SALVER | Brian Spendelow & Paul Scott | Mon May Pairs |
| KIRKBRIDE SALVER | Val Tetley | Tue Champion Individual |
| HJ SUMNER MEMORIAL CUP | Alan Lancaster & Susan Thorne | Tue Champion Pairs |
| ACOLYTE TROPHY | Paul Scott | Mon night points before Handicap |
| BAKER TETLEY TROPHY | Val Tetley | Top points for all competitions |
| CAIROS REAY SALVER | Lance Bowden | Mon night points overall |
| DULIHANTY CUP | John Tetley | Tue night points overall |
| EILEEN BRINDLE TROPHY | Pallab Banerjee & Phil Lynch | Thu Open Pairs |
| OKLEA SALVER | Susan Thorne | Thu Top points |
| PEG HARTNOLL PAIRS | Susan Thorne & Phil Lynch | Thu Open Pairs |
| TUNNICLIFFE CUP | Angela Signal | Ladies combined Points |
History of the Club
The following is compiled from records written by Myrle Steadman after she had researched our Founder, Bede Dulihanty's records.
The inaugural meeting of 34 persons interested in forming a Contract Bridge Club was held in the St John Ambulance Hall, Great South Rd, Papatoetoe (School Corner) on 17th March 1960.
The meeting resolved to proceed with the formation of the Papatoetoe Contract Bridge Club. Table money was collected which made cash in hand £7-4-0.
By the end of 1960 the club had 54 members — most were still members in 1982. The Club was actually founded in 1961.
During the 1960's the club had many "homes". We went from Palm Court lounge in 1960 to Papatoetoe High School in 1964, Papatoetoe Bowling Club in 1965 and back to Palm Court lounge in 1967. On Wednesday mornings ladies met at the Whitehaven Pensioners' Hall, Dreadon Ave, Papatoetoe.
All scoring was done manually until the club purchased a computer in 1987.
By the early 70's we were playing Tuesdays and getting over 20 tables. Tables and cards were stored at Palm Court Lounge and had to be packed up and reset each session. Mid 70's we were playing Tuesday and Thursday nights.
Finally the Committee decided it was time the Club had a home of its own, after investigating a few sites, following a Special General Meeting of 78 members on 17th April 1977 to select a property to meet requirements.
At a meeting re-convened on 3rd May 1977, with 79 members present the property at 57 Hillside Rd, Papatoetoe was chosen, at a purchase price of $40,000. To build Clubrooms on this site a mortgage was arranged with the ASB, and the balance came from Debentures from members plus Life Memberships. (Paying 15 years membership in advance — no interest payable.)
Builders from within the club were hired on a wage and worked during the week with help from other members of both sexes. Special jobs were done on weekends with extra manpower.
Mr Alan Hall was in charge of the first part, and Hank Schellingerhout the final part. Members used staff privileges to acquire building supplies at cost prices, including windows, paint, carpet, etc. One lady on the Committee donated $400 to line the kitchen with formica.
When the project started the Club owned over 20 tables and covers, the necessary boards, cards and a modest bank balance. Donations came thick and fast to provide chairs, kitchen utensils etc. Nearly every chair had a donor's name attached — most of these had fallen off by the time we said goodbye to these clubrooms.
When the club was ready to be used at the end of 1977, we had bare board flooring and 3 large rolls of carpet in the room. Members laid the carpet in one weekend, finishing with a jolly party lunch on the Sunday. Guests were invited from surrounding clubs. Photos of this event show that we had no drapes on the windows.
Early 1978 saw purchase of curtain fabric and lining. The ladies, with 7 sewing machines and many willing hands, cut, sewed and hung the drapes in one day, with Dave Chochrane putting up the curtains tracks and doing the hanging.
The Club flourished and we were experiencing an increase in Interest Rates, so as funds became available the Committee conducted ballots to repay members debentures.
Our "working together" and family atmosphere continued, and by 1992 the ASB Mortgage was repaid and the property was freeholded, many years before we had imagined this possible.
The alarm system, security fence and gates were added after repayment of the mortgage, to protect our cars from damage by local yokels.
There were so many people who gave their time and resources to the Club. Apologies given for any omissions.
Besides the Special Concessions already listed, there were many other donations:-
Air Conditioning unit from an Auckland businessman.
The Notice Board
Honours Board
Lounge suite in cloakroom — (for a sick bed if required).
First fridge
Linoleum
Director's Table
Kitchen requirements
First Clock
Typewriter
All the volunteer labour
In the Official Records, the Committee voted a "Special Thanks" to Claude Steadman and John Templer for their service to the builders.