Welcome to Papatoetoe Contract Bridge Club 2020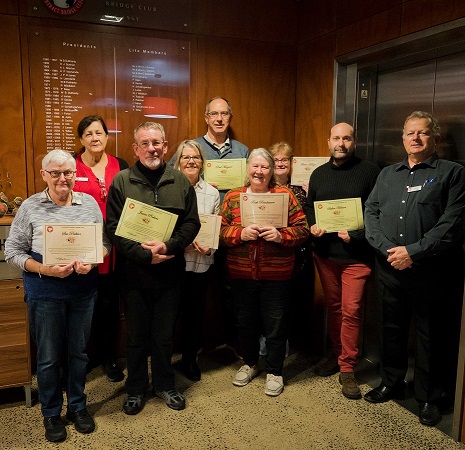 Lance's Graduation people from May - July Lessons
Important Announcement
As of Thursday 19th March the Club has been CLOSED due to Covid19.
The committee met again on Thursday evening 28th May with the nation being at Level 2 for two weeks now.
Based on recommendations from NZ Bridge the club will remain closed until we are at Level 1.
The committee will meet again on the 18th June to consider when the club will open under Level 1 and the scheduled Mid-Winter Xmas dinner on Sunday 5th July.
Bridge Online
The club is using BridgeBase Online to host PCBC sessions with PCBC & HBC Members.
Monday evening starting at 7:00 pm.
Tuesday evening starting at 7:00 pm.
Wednesday evening starting at 7:30 pm
Thursday evening (Provisional) starting at 7:30 pm
Friday morning starting at 9:45 am.
The BBO Session Results are available on the "RESULTS" web page.
If you wish to join the online session you need to be a member of BBO and included in our inclusion list for any of our events.
Contact Lance or Neil on how to do this. If you need one on one training on how to use BBO please contact Neil (027 5354 909) or email neil_beckett@xtra.co.nz
BBO Instructions as Prepared by Tauranga Bridge Club
PCBC BBO Instructions on how to join a tournament using documentation as prepared by Tauranga Bridge Club - Note Tauranga is replaced with PCBC
Bridge Lessons cancelled/postponed due to Covid19
At this stage the Club maybe in a position to run lessons later in the year.
Latest Articles of Interest
Bridge as part of your Health, Well Being and Leisure in NZ
Bridging the gap: Why playing bridge is good for you...and fun!!
Drug Taking in Bridge
Doping in bridge is a reminder that no sport will be free from cheating
Brian's Latest PCBC Bridge Articles
Click for Blog No 36 (February 2020)
Holiday Bridge Session Times
All players are Welcome
Table Money $3 and $5 for non-members
Location of Club