Welcome to Papatoetoe Contract Bridge Club 2019
Free Bridge Club Lessons Starting on Monday May 6th-Note Early Start at 6:45 pm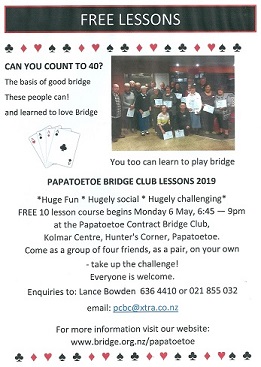 If interested please contact Lance Bowden 021 855 032 or email pcbc@xtra.co.nz
To make Lesson Registration by EMAIL Click Here
If you cannot make first lesson please come for the 2nd lesson or email us.
Location of Club
Kolmar Centre - Click Here For Map
Papatoetoe's Restricted 8B Tournament on Sunday 9th June
Click on TOURNAMENTS Tab for further details
Session Winners For April
Monday Evening Handicap Pairs:
1st Rob Davies & Aaron Starr
2nd Alona & Gade Ben-Tal
3rd John Walters & Paul Scott
Tuesday Evening Open Pairs:
1st Gerry Nyssen & Val Tetley
2nd Tom Han & Garth Pussell
3rd Brain Spendelow & Shirley Bishop
Friday Morning Open Pairs:
1st Gerry Nyssen & Phil Lynch
2nd Tom Han & Nellie Arts
3rd Margaret Harris & Marilyn Stark
Latest Articles of Interest
Bridge as part of your Health, Well Being and Leisure in NZ
Bridging the gap: Why playing bridge is good for you...and fun!!
Drug Taking in Bridge
Doping in bridge is a reminder that no sport will be free from cheating
Brian's Latest PCBC Bridge Articles
Click for Blog No 28 (April 2019)
Regular Club Sessions & Session Times
Evening Bridge (Monday & Tuesday, including Holiday Bridge) - Need to be at club by 7:00 pm for start of play at 7:15
Friday Morning Day Session - Available for all Grades and need to be there by 9:45 am for start of play at 10:00
All players are Welcome
Table Money $3 and $5 for non-members
Location of Club